Posted on 15th Jun 2016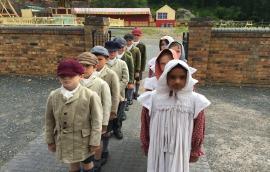 As part of their History topic on the Victorians, Prep. 4 pupils visited Blists Hill Victorian village in Telford and had a lesson in the Victorian School House. This was very different to their cosy Prep. 4 classroom at Edenhurst!  
Firstly we had to look the part, so we changed into typical clothing of the day and then had to line up in silence waiting for the school bell to go. Girls and boys had to line up separately and the teacher had to be addressed as Ma'am. Slate board were used to write on and any left handed children were made to used their right hand.
Silence in the classroom was the norm and children were only allowed to speak when invited to do so.
PE or drill as it was known took place on the school yard and was very formal with all exercises and stretches performed in lines together.
After lunch we looked around the whole village to watch craftsmen at work and talk to various shop owners.
It was a great day and we gained a real insight into Victorian life.
Click here to see some photographs of us enjoying ourselves (?) at Blists Hill.
Mrs. Long
Categories:
Uncategorised