At Edenhurst, we place a strong emphasis on health and fitness outside the classroom. We believe that the opportunity to take part in a variety of sporting activities should be offered to all children, in the hope that each child may find at least one activity to enjoy. We believe that healthy competition is character building, and teams of different ages enjoy fixtures against other independent schools in football, rugby, hockey and netball. Ball skills and co-ordination are developed from an early age, and later on opportunities arise to represent the school in team matches.
Sport is taught by specialist teaching staff and our children enjoy state-of-the-art facilities, including our own AstroTurf pitch.
Our P.E. lessons extend beyond the walls of Edenhurst, utilising many local facilities to access many different sports. To find out more, please click on our map below.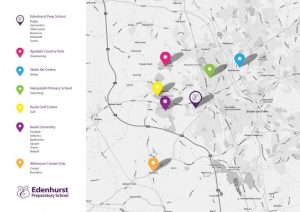 Cricket, football, netball, rounders and tennis are the principal sports, but others such as rugby, athletics, cross-country running, hockey and basketball are equally popular. Children follow a nationally recognised certificated development course in gymnastics, and our annual Sports Day is much enjoyed by children and parents alike.
We have an inclusive approach to sport, and are proud to have recently achieved GOLD accreditation from the School Games. For more details please visit www.yourschoolgames.com