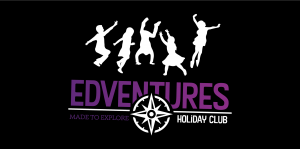 The Edenhurst Prep School Holiday Club, 'Edventures', offers action packed, fun-filled days for children aged 4 (reception) – 12 (Year 7) during the school holidays. Children aged between 4-12 who do not attend the school are very welcome to attend.
Follow Edventures via Twitter and Facebook.
The programme contains two activity streams – one for children aged 4-7 years, and one for children aged 8-12 years.
Within each stream we have a combination of sports, performing arts, plus various creative and fun activities, all designed to deliver a highly memorable holiday experience for all the children. Each stream also includes a number of exciting trips, to places such as Trentham Gardens, The Ice Cream Farm and the National Football Museum.
Our sports activities are lead by specialists from inside and outside of school, which include a wide variety to cater for both the older and younger children. Activities include Football, Tennis, Gymnastics, Bubble Football, Table Tennis, Cricket, Yoga and Basketball.
Opening Hours:
8:00am to 5:30pm
Cost:
Day rate: £28 per day
Annual payment (Edenhurst Preparatory School pupils only): £700
Annual payment (non-Edenhurst pupils): £875
Deadline for annual payment: 31st October 2020
Annual subscription booking form
This enables one child to attend any of the Holiday Club dates held throughout the school year (*subject to availability).
NB. Trips: Children will be asked to bring payment for trips on the day of their outing.
Payment:
All payments must be submitted prior to attending, payments can be made by BACS (Sort: 20-59-49 Acc: 53612643), childcare vouchers or cheque (Edenhurst School Ltd). Please note, we have a no refund policy, full charges will apply.
Please reference Edv + child's surname on BACS and childcare voucher payments.
Data and Medical Form (DMF):
A yearly DMF must be submitted for your child to attend Edventures. Please ensure this has been submitted before your child(ren) attend Edventures.
To book:
We require all children to be booked into the Holiday Club and full payment received in advance. Prior booking is essential to avoid disappointment, as we may not be able to accept children who turn up on the day. This is to ensure that the correct staff to child ratio is maintained at all times, for the safety of the children. We have a no refund cancellation policy, full charges will apply.
If you would like to book a place for your child, simply complete our Booking Form.
Daily activities:
Trip Pricing: TBC
Daily Routine & Equipment List