Posted on 14th May 2020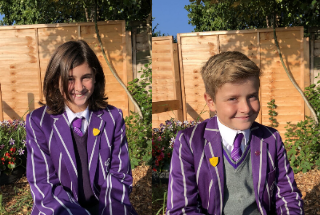 Hi Everyone,
My name is Harry and I'm Head Boy at Edenhurst Prep School. We have been doing our learning online for 5 weeks already and I feel I'm starting to get used to it. Even though this is not what we are used to, I am sure we are still putting a lot of effort in our work but also trying to keep in touch with each other so we feel happy together.
If you have come across headaches, or aching eyes this could be due to the amount of screen time there is throughout the school day. If this is so, please let your teachers at school know.  In between lessons please do something other than looking at a screen. For example, go out and play in your garden or if this is not possible, try and spend some time playing a game with your family.
The one thing I am looking forward to when we get back to school is the big summer play. I have been thinking of me being in the summer play and hopefully, it isn't going to be long until we will start rehearsing!
Stay Home and Stay Safe!
I'm Sophia, the Head Girl of Edenhurst.
Life is very different. I sometimes find it difficult to motivate myself and rip my phone out of my hand, it's not because I'm not interested, I just have no energy. I would call it lockdown apathy. The only real time I go downstairs is to get food and drinks.
I rarely think about the virus but I still worry about my family. Here are a few tips I find helpful:
In the morning I like to wake up at a reasonable time (7.50 is when I wake up).
After I roll out of bed, I make a rough plan of my day, whilst brushing my teeth.
My favourite day is Friday because after a long hard week I always use Friday as my treat day. For breakfast I eat four slices of toast with a Nutella blob swirled on top with a gummy vitamin on the top.
I always find it is important to treat yourself after doing something well. My favourite treat is using my lime and lemon bubble bath.
Breaks are also as important as treats. After a few hours of lessons its important that you take a break from the computer. As I am writing this my fingers are starting to hurt because I am always on the computer or on my bike.
After a long day of work, I always go out for a dog walk. Me and my sister ride our bikes and our dogs (Milo and Scout) chase us around
I always go to bed at a decent time (9:15) so I don't feel tired in the morning.
Overall it is important to keep an organised day because it makes you think about things more methodically.
Categories:
Prep 6
School Blogs