Posted on 20th Sep 2016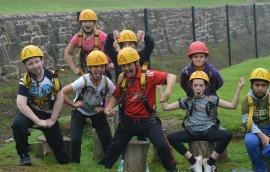 Three years ago, when Prep 6 became the oldest year group in the school, we continued and developed a tradition with our oldest children – taking them away at the beginning of the year for a three-day residential.  This is to give them time to grow together in a different way, focusing on leadership skills, working together and recognising each other's strengths that may not always be apparent in a classroom situation.
Our time at Condover Hall, just outside Shrewsbury, is now keenly anticipated and hugely enjoyed, as was shown by those who have just returned from this year's trip.  They thoroughly enjoyed all of the different activities, including climbing the Gladiator Wall and Aerial Trek, working their way through the Laser Maze and across the Grid of Stones, finding the clues on the Run-Around Quiz – and learning a lot of new songs at the Campfire and as they walked between activities!
I think that Prep 5 are already getting excited about the trip – they've been asking me and Prep 6 what it was like.  The facilities at Condover are fantastic – it's the flagship site of JCA and we're lucky enough to have it on our back doorstep!  Other schools had travelled there from Northampton and London, showing its popularity.
And yes, Mrs. Long and I enjoyed it as well…it's lovely being able to spend time with the children in a different setting, for each to be able to appreciate the other in a less formal and structured way.
Click on the links below to access the photographs and blogs:
Here's to Condover Hall 2017!  Further information to follow to Prep 5 parents later in the term.
Mr. Barnes
Categories:
Uncategorised