Posted on 11th May 2016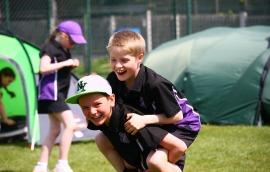 Last Thursday we welcomed the staff from 'No Limits' for the start of Camp Edenhurst 2016. On arriving at school we were greeted with glorious sunshine and clear blue skies. The winter hats were safely stowed away and the sun cream was out!
This year children from Preps 3 – 5 joined the camp with a total of 45 very excited children. They all arrived with enough luggage for at least a week (with extra clothes to suit the temperamental British weather!).
After a few ice breaker games they were quickly sorted into teams and set about pitching their tents. Many had remembered this from last year and soon got straight to the task with only a little adult support.
Once the tents were pitched they set about unpacking. There proved to be very little room for the children after they had their belongings organised!
The groups enjoyed making their own shelters out of available materials. It was interesting listening to their discussions about the best way to succeed in this activity and some shelters proved to be more sturdy than others.
This year the school kitchens provided all of the lunch items but the children were expected to make their own sandwiches and also wash up after themselves. We had some very motivated volunteers who did an amazing job (they wish to remain nameless as apparently they are not this helpful at home!).
After lunch the groups were given a map each. They walked around the local area locating answers to set questions to crack the code and find their golden key. The reward of chocolate digestive biscuits only lasted for a very short time.
After the walk they tried their hand at fire lighting using fire steels. All of the children tried really hard and persisted until they succeeded. Those who had done this previously still found this tricky. Preps 4 and 5 then went on to make their own Bannock bread that they cooked over the campfire.
Of course, during the day many team games were played including rescuing a tiny person from a drainpipe by blocking all the holes and filling with water (I think he is still in the drain pipe!), plus favourites such as 'Ants' which they never seem to tire of.
The evening BBQ went down well and everyone had great appetites with many returning for seconds of everything. The custard was a little interesting (and lumpy) but no one seemed to mind!
Then came the fun of settling down for the night. This was very entertaining and I think the last few finally fell asleep around midnight after the constant stream of toilet visits. We even had an uninvited guest (a hedgehog) on the playground who had to be moved for his or her own safety. Freya and Eleanor thought it was exceedingly cute.
Just as I was enjoying the beautiful dawn chorus I began to hear what sounded distinctly like human voices (at just gone 5am). The whole camp were awake and full of life by 5.30am and seemingly raring to go! We finally gave in at 7am and breakfast was served.
Again, Friday proved to be a day full of activities. All groups enjoyed learning basic first aid and casualty evacuation skills. I'm not sure how safe Miss Machin felt when she was evacuated across the playground on a tarpaulin as a make shift stretcher!
After lunch the camp was cleared and tents repacked in bags. The instructors discussed with the groups how important it was to leave no trace of our activities and a human line was formed to pick up sticks, litter or belongings that had been scattered.
We had a wonderful couple of days but we were all shattered and ready for a good night's sleep!
Click here to see some photographs of Camp Edenhurst 2016 in the gallery!
Mrs Heyhoe
Categories:
Uncategorised