Posted on 14th May 2020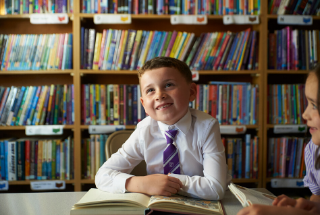 As I sit down to type my article for Edenhurst's e-news, we have our first, perfectly timed, Millionaire Reader– Lexi in Prep 5. Lexi, like many other children, has embraced our new reading programme and since January when we first introduced Accelerated Reader to the Prep forms, Lexi has read over a million words, which I am sure you will agree is an incredible achievement.
Accelerated Reader is an online platform that encourages and supports children with their reading. Initially, the children take a short, adaptive test where they are given a standardised level. This helps the children identify what sort of books they should be reading to ensure that the material is engaging and accessible, but that they are also reading at a level that is challenging enough to ensure they make progress with their reading skills. The children know this level as their ZPD and we strongly recommend that for the vast majority of the time, the children are reading books that fall into this level. On completion of the story, a short quiz is available for the children to earn points and start their journey to become Millionaire Readers. If being transported to wonderful worlds and meeting unbelievable characters isn't enough, points will mean prizes at the end of the year!
Our library is currently in the middle of a small up-dating project where all the books are being labelled with their ZPD level and the amount of points you will gain from reading that book. By September, the library will be fully stocked with a range of books covering the full ZPD range. It is our intention to introduce this lower down the school as children start to reach a certain reading age.
Please continue to keep hearing your child read aloud (all the way up to the end of Prep 6!) and participate in reading together as a family.
Do speak to your child's class teacher or Mrs Bennett should you have any questions regarding Accelerated Reader, or if you have books that you would like to donate to the school library.
Thank you.
Categories:
School Blogs