Posted on 15th Feb 2018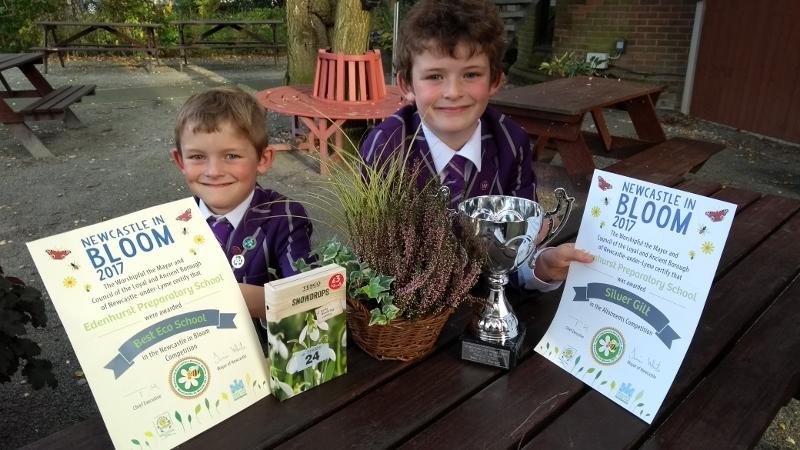 We have had an amazing year since September.
All pupils engaged in learning about our world through the World's Largest Lesson with themes ranging from litter to climate change. This was very exciting and the whole school enjoyed this event.
The allotment is still a huge success and in October we were awarded Silver Gilt in the local Britain in Bloom allotment competition and also 'Best Eco School' in the area. Groups have been going to the allotment throughout the year to prepare for Spring planting. They have done an amazing job of clearing leaves and digging over the beds.
We have also completed our first local planting event with the Borough Council for the year. Each year we are responsible for refreshing the planters beside Berkeley Court in the town centre.  
Forest Schools has continued with Forms 1 and 2 this year. The children in these classes learn about nature through play and craft based activities. They also enjoy local area walks and team activities. We enjoy being outside whatever the weather. We especially enjoyed playing in the snow earlier this year.
Each year we complete 3 litter picks in the local area with the Borough Council. This encourages our children to take pride in the local area and 'love where we live'. Form 2 enjoyed the first event. Prep 4 and Prep 6 will complete the remaining 2 events later in the year.
We are also working hard to reduce waste and increase recycling within school. This term we are encouraging our children to use their school water bottles at lunchtime to reduce plastic waste and we have been trialling paper straws for our break time milk. Packed lunches for trips have also changed. We are encouraging all pupils to reduce the amount of waste packaging by using reusable sandwich boxes, school water bottles and the purple school drawstring bags.
Later in the year we have Camp Edenhurst 2018 in May for the Prep forms which is always an amazing experience and our mystery Eco trip for Golden Ticket holders.
Don't forget that all 40 Eco activities should be in by Easter to gain a place on our minibus for the trips. The first 14 children to achieve their outstanding award will receive a place. Remember that there is a new Eco activity suggestion on each weekly email that can be completed at home.
If you require further information about the Eco award scheme or have any suggestions please contact me at Julie.heyhoe@edenhurst.co.uk
See some more photos of our Eco Achievements here.
Categories:
Uncategorised