Posted on 4th Oct 2017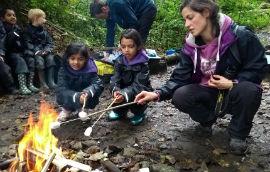 Our first trip of the year was amazing. We went to Poole's Cavern and Buxton Country Park to investigate materials above and below ground.
On arrival we were met by a lovely tour guide who was full of information about stalagmites and stalactites. She enjoyed telling us many tales about the history of the cavern and let us experience what it would have been like for early visitors to the cave with no electricity! It was certainly very dark. We loved seeing the poached egg stalagmites and shouting as loud as we could to hear the echo. A few of us found the dinosaur who tried to eat us – but we weren't very tasty.
After lunch we had a rather steep hike to the top of Buxton Country park with our instructor from Outdoor Genius. By the time we got there we were ready for a well earned rest.
We looked at a range of natural materials that could be found in the forest such as leaves and wood and discussed their properties. Then we had the chance to use a traditional flint and steel to create sparks. After that we all lit our own mini fires using modern steels and cotton wool. As a treat for our hard work we toasted marshmallows over a larger central fire that was made using dry tinder.
We were all INSPIRED by the day and enjoyed celebrating our achievements. We could have happily stayed there for much longer!
Click here to see some photographs of our visit.
Mrs. Heyhoe
Categories:
Uncategorised