Posted on 12th Jul 2017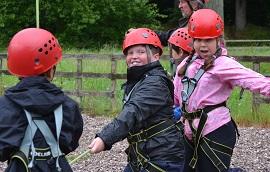 It has been an emotional few weeks for Prep 6 as they have prepared to say farewell to Edenhurst, but there were plenty of smiles on Tuesday as they enjoyed a final day out together at Woodlands Adventure Centre, near Walsall, accompanied by Mrs. Nash, Miss West and Mr. Barnes.
The day was all about fun, enjoying time with friends, and plenty of water and mud!  Bakers' Coaches even laid on the same luxury coach that took us out a couple of weeks' ago, so we all rode in style for our final trip of the year-  much enjoyed by everyone.
Upon arrival we split into three groups and the first stop was the high ropes course: a walk on the high logs; climbing Jacob's Ladder (and leaping across a few gaps!); and making the 'Leap of Faith' from the top of a wooden pillar to grab onto a metal bar.  All had a go and even admitted to being a little impressed that their teachers were able to do them as well…
After lunch the children all enjoyed the zipline – one of the longest in the area: it stretches across a lake, which adds to the fun!  They all picked something to sing as they shot out across the water.  Everyone went down the line, but I will give a special mention to Roni here, who overcame a big fear here and went down the line – and thank you to the rest of Prep 6 for giving her a lot of encouragement to do it!
Last up was the assault course and 'mud run' – much enjoyed by everyone!  The rain was very obliging and gave the children a little extra to enjoy.  Our pictures and photographs tell the whole story, with a little extra coming back from the children as well!  
A super day made all the more enjoyable by the children taking part in everything and having a great time as well.  This is the third group that we've taken to Woodlands and they've all loved it, particularly as it means that they can enjoy the time with their friends and share a final experience before (in some cases) going their separate ways.
Well done to all! 
Click below to enjoy some photographs from our day:
Mr. Barnes
Categories:
Uncategorised