Posted on 3rd May 2017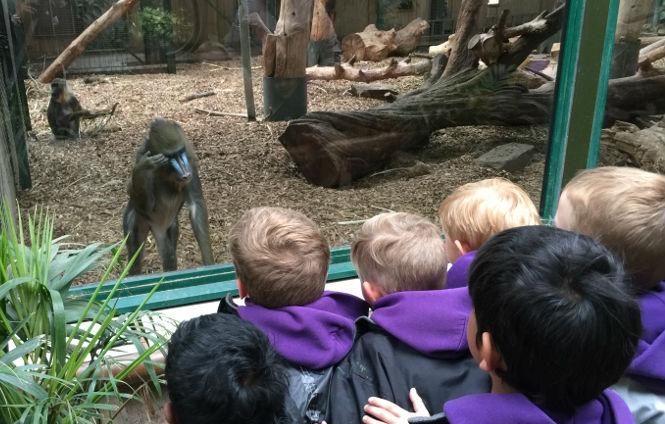 In Form 1, we place great emphasis on learning through experience, both inside and outside of the classroom. Linked to our science topic on 'Classification of Animals', Form 1 visited Chester Zoo, where we further learned about the animals we have been studying, including their habitats and the food they eat.
We had a thoroughly enjoyable visit to the zoo, despite the rather wet start. Thankfully, none of us minded, least of all the elephants, who were more than happy to frolic in the rain and were completely mesmerizing. It took some effort to encourage the children to move on! The primates, on the other hand, obviously objected to the weather and every single one of them remained tucked up in bed. We were, however, lucky enough to see one of the latest additions to the giraffe family take his first step outside but couldn't enter the giraffe house because a giraffe had only been born the night before and he or she needed some time to settle.
After an early lunch, the sun came out and so did the animals. We saw the aptly named sun bears, the elusive jaguar and a very fast moving sloth (who knew they were so quick?) The cheeky capuchins were very busy trying to escape their compound, which the children found very amusing. The next day, we learned about how intelligent primates are and how destructive they can be. Form 1 particularly enjoyed watching a short film of the Longleat monkeys taking apart a car!
The children, enjoyed spending time in the rain forest house at the zoo, where we experienced humid conditions whilst looking at a variety of reptiles and watching the orangutans and gibbons. Then, most of the children braved the bat cave, which they said was very smelly. Finally, we visited the penguins and saw the lions. The male lion is currently under veterinary care so we were able to get very close to him, which was one of the highlights of the day. Then on the way back to the coach, we had to say goodbye to the rhinos and elephants.
Form 1 had a great day and learned a huge amount from their visit. On the following day, we wrote about our favourite animal. We were so proud of the children's writing, it is displayed in our classroom so please feel free to come and read it.
Click here to see some photographs of our visit.
Mrs. Bartholomew
Categories:
Uncategorised