Posted on 21st Mar 2017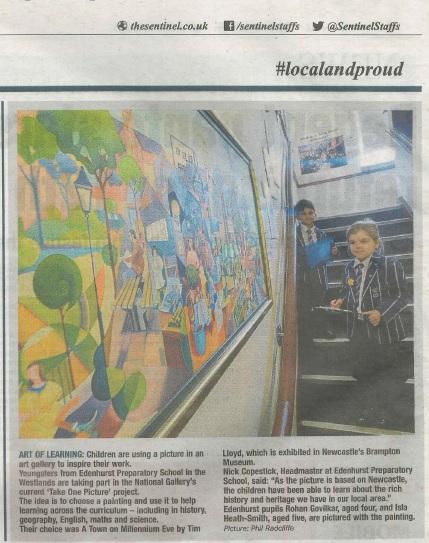 Edenhurst pupils are enjoying a fortnight of lessons inspired by the National Gallery's 'Take One Picture' project, running from 13th -24th March.
Around 130 children are taking part in the whole-school project which sees a single picture become the focus and inspiration for the children's learning across the curriculum. 
Following a voting process involving pupils, staff and parents, the School has chosen 'A Town on Millennium Eve' (1999) by Tim Lloyd, exhibited in Newcastle's Brampton Museum, as the focus picture. The challenge is for the School is to use the image imaginatively in the classroom, both as a stimulus for artwork, and for work across other curriculum areas, including history, geography, English, maths and science.
As part of the project, children across all year groups will be taking part in visits to the Gallery to view the painting, and many other special lessons, trips and activities have been planned linked to the initiative.
Nick Copestick, Headmaster at Edenhurst Preparatory School, said: "The project has various aims, all of which are in line with what we are trying to promote at Edenhurst, such as promoting innovative learning outside the classroom, raising the profile of the visual arts within education and encouraging creativity from both teachers and pupils.
"The children and staff are really excited about the project, which has provided a stimulus for us to bring the whole school together. Art is something that all children can engage with, and at Edenhurst we are very proud to support the promotion of arts and culture throughout the Borough and further afield."
He added: "Furthermore, as the picture is based on Newcastle-under-Lyme, the children have been able to make links with their local community and learn about the rich history and heritage we have in our local area."
The oil painting by Tim Lloyd, was commissioned for the Millennium by Newcastle-under-Lyme Borough Council. The painting contains images of people celebrating Millennium's Eve in Newcastle and contains various scenes, including the market, Queen's Gardens, and the Guildhall.
Cllr Amelia Rout, the Borough Council's Cabinet member for leisure and culture, said: "'A Town on Millennium Eve' has held a unique place in the Brampton Museum's collection for many years; it's a wonderful, 'busy' painting that is enjoyed by visitors young and old.
"We are delighted that the children from Edenhurst chose it to base their project on, and this is a great example of how the Museum and its collections are used as a learning resource by our local schools."    
Click the image below to see a link to the article in The Sentinel newspaper (17th March, 2017).
Categories:
Uncategorised