Posted on 14th Mar 2017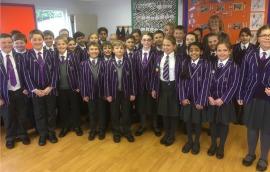 Prep 5 and Prep 6 enjoyed linking up with the choir from Forest Preparatory School in Timperley for a joint Choral Day, led by renowned conductor of the Hallé Children's Choir, Mrs. Shirley Court.  The pupils rehearsed intensively throughout the day, doing vocal exercises, listening and responsiveness drills and worked on expanding their sound and 'word-painting' to maximise the meaning of the song texts.  
We were invited along by Mrs. Wellings, the Music Teacher at Forest Prep.  It was a fantastic day.  All of us learned so much from Mrs. Court: not only from her enthusiasm and energy, but also her commitment to beautiful sound and attentive teamwork.
Mrs. Court was delighted with the progress the children made and, after a concentrated three hours of rehearsals, the highlight of the day was performing for the Forest Prep pupils and teachers.  Each school sang two of their own songs and then combined for the final two songs of the programme.
Forest and Edenhurst are now looking forward to another Choral Day sometime in the future and the opportunity to work with Mrs. Court again for another inspirational musical journey.
Well done to everyone involved – what a great opportunity to be involved in joint activities with one of our fellow Bellevue schools!
Click here to see some photographs of our day.
Categories:
Uncategorised