Posted on 15th Feb 2017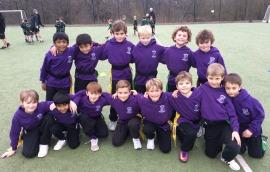 U10/U11 Rugby v. Terra Nova:
All Year 5 and 6 boys travelled to Terra Nova for our opening games of the season. The U11 team played in a highly competitive triangle: St. Ambrose, Terra Nova and Edenhurst. Winning one game and losing one narrowly, the U11 team played some outstanding rugby and showed excellent teamwork.
Our U10 team started slowly in the first quarter and found it hard to adapt to the physical nature of the match. After a good team talk and positive play in the second quarter the players started to show their potential and perform to a higher standard. In the remaining quarters the players continued to improve which was very pleasing to see.
U8/9 Tag Rugby v. Terra Nova:
A fantastic start to the season with a great win and performance. The players' willingness to learn and improve in their games lessons have really paid off. Great defensive lines and intelligent attacking play from everyone. Well done to all involved!
Click here to see some photos from our game.
Mr. Beasley
Categories:
Uncategorised