Posted on 15th Feb 2017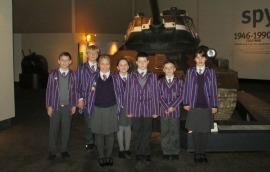 As part of their History topic about World War 1, Prep 5 visited the IWM North on Friday.
For anyone who hasn't visited this museum, it is an amazing experience!  Not only does it contain some truly unique, inspiring and important artefacts from many world-wide conflicts, but they are displayed in a most unusual building! The museum itself is located on a former bomb site – this area of the city was a main target in the Manchester Blitz during the Second World War as it housed many armaments factories.  Once inside, it has been designed to be disorientating; walls curve so that you are unable to see very far ahead, the lighting is always kept at a low level and even the floor of the Main Exhibition Space slopes by eight feet.
 The most intriguing experience, though, is the Big Picture Show.  All of the walls, and even the floors, are used to display archive films, many of which are voiced by the people who actually experienced the scenes being depicted.  The children were completely immersed in the whole experience!
They followed the WW1 trail, finding objects such as a rock-hard biscuit which was typical of the food endured by the poor soldiers at the Front.  They had fun using their senses to find out about some of the sights, textures and even the smells of the trenches.  These included smelly feet – soldiers may have worn their socks for a month at a time before they had chance to change them (a dream come true for some boys, apparently!)  The children also learned about the role of women on the Home Front, doing the the jobs of the men who were away fighting.  A particularly interesting object was the pistol belonging to Flora Sandes – the only British woman to have fought in WW1, although she did have to join the Serbian army in order to do so.  The children were fascinated to see the gun which fired the very first British artillery shell of the war, and they reflected on the fact that most people believed that it would be a very short war; no-one expected it to last 4 years and for there to be such a heavy toll.
Without exception, the children had a very rewarding and inspirational day; they discussed many of the issues raised with maturity and good sense.  Let's hope that their generation makes better decisions in the future than previous generations have done.
Click here to see a few photographs from our visit.
Mrs. Guest
Categories:
Uncategorised