Posted on 15th Feb 2017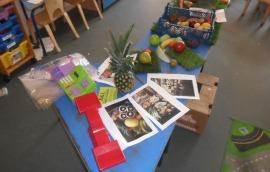 This week the Little Learners had a visit from Carrie and Haydon from K & L's Fruit and Veg who talked to us about the importance of fruit and vegetables and how they help to keep us healthy.
We discussed where fruit and vegetables come from, how they grow and the different varieties available. The children used their sense of touch and smell to explore carrots, parsnips, onions of the vegetable group and pineapple, apples and lemon of the fruit group.
The children later had lots of fun when they had the opportunity to expand their maths skills by counting money and weighing the produce in our Fruit and Vegetable Stall Role Play.
Click here to view some more images from the day.
Mrs. Copestake, Miss Jankowski and Mrs. Lakin
Categories:
Uncategorised