Posted on 15th Feb 2017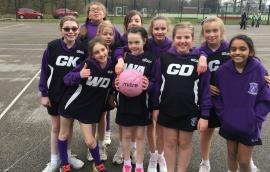 U8/9 Netball v. Denstone Prep
All of the girls from Prep. 3 and 4 travelled to Denstone Prep. for their netball match. It is always slightly more difficult playing an away fixture as goal posts and court sizes tend to vary. However, this did not seem a problem and we got off to an excellent start, scoring 3 quick goals at the beginning. Both teams were very well matched and soon Denstone caught up. It was a very exciting match right up to the end and we managed to win by 8 goals to 9.
Well done girls!  Click here to see some photographs of our game.
U11 Netball v. Beech Hall
All of the Prep. 5 and 6 girls who were not taking part in the ISA Cross-Country stayed at school to play netball against Beech Hall.  It was great for these girls to play a full game: for others, it was their first match.
They were all very enthusiastic and passed the ball efficiently to each other; the defenders, as usual did their jobs brilliantly. Good shooting ensured a win of 7 goals to 0. Very well done to all of the team.
U11 Netball v. Terra Nova
On an extremely cold day, all of the Prep. 6 girls and one Prep. 5 girl travelled to Terra Nova for their netball fixture. Terra Nova were a very good team and we were a good match for them.
We played 4 quarters of 10 minutes each, bringing on reserves and swapping the team around to play to our strengths. In 1 quarter, Terra Nova pulled away and unfortunately we could not catch them. We did , however have some excellent moments of play but just could not score our goals. The final result was 11-6 to Terra Nova.
Well done to all!
Click here to see photographs of our games against Beech Hall and Terra Nova.
Mrs. Long
Categories:
Uncategorised