Posted on 25th Jan 2017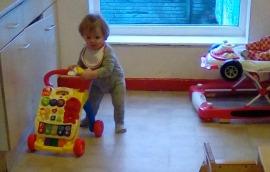 If your child has begun to stand unaided, their next step is to learn how to walk.  As stated in the Early Years Foundation Stage, this can happen anywhere between 8 and 20 months.
They will show eagerness and determination throughout. With the use of push-a-long toys and lots of low level furniture, each child will develop the confidence to take a few steps by themselves! The praise they receive is of great importance – although there have been many times within the Baby Room where we have cheered and clapped as the first couple of steps have been taken for the baby to smile and clap themselves and drop to the floor!
Your child may have a couple of bumps and drops down to the floor as they learn to steady themselves and walk, and whilst it is not nice to see them fall down, it will build their confidence and determination to become more independent. Supporting and praising each child as they take a few steps between two adults will provide them with support as they know they will be caught if they fall.
See our photos of some of our Babies as they take on the walking process!
Miss Henry
Categories:
Uncategorised