Posted on 13th Dec 2016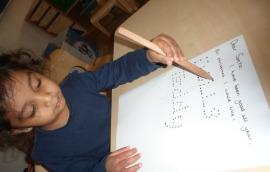 On December 7th, as part of National Letter Writing Day, the Nursery children decided to write very special letters to Santa Claus with some very special requests!
Learning how to write is a skill that starts at a very young age. Babies and Toddlers can start to develop the muscles and hand/eye coordination needed to hold a pencil through activities such as playdough and painting and even the Posting Pig! The children start by holding the pencil in the palm of their hand, known as a palmar grasp, then as they progress move to a pincer grasp between two fingers. As the children get older and start to make marks they can assign meaning to their pictures such as 'That's Santa.'
At Edenhurst our Little Learners and Early Learners use the Read Write Inc phonics system to help them learn to read and write. As the children reach the Early Learners they start to form letters, first with help, then by themselves. As you can see from our photographs, our  children are doing very well as they independently write their own name and list for Santa!
Click here to see some of the children's letters.
Merry Christmas from everyone at Edenhurst Nursery!
Categories:
Uncategorised