Posted on 4th Oct 2016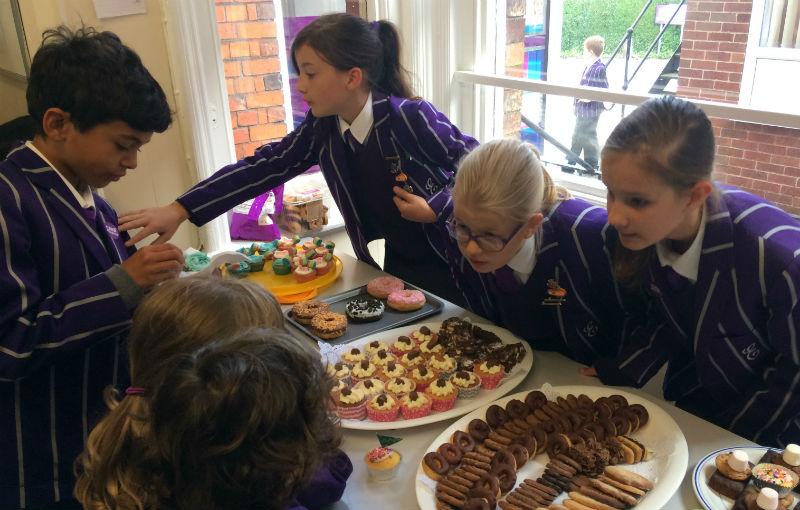 On Friday September 30th, Edenhurst took part in the World's Largest Coffee Morning in aid of Macmillan Cancer Support.  Prep 6 enjoyed organising and running this event, taking the responsibility as our oldest class.
Mr. Barnes sent out letters to all of the parents telling them about the event and asking for donations of cakes and biscuits.  The Swing Band (Joseph, Elliot, Ben G, Alex Z and Toby) volunteered to play and River performed violin solos.
On Friday morning lots of parents brought in cakes and biscuits!  Would we be able to sell all of them?  The boys hoped that Prep 6 could finish them off in the afternoon!  All of us went down to the dining room and turned it into a coffee shop: we moved the tables around and set out the cakes.  The band got ready, tuned up and practised.  We decided who would start off doing the different jobs, then put our blazers on and we were ready!
At 10:00am the first parents came in and we didn't stop from then!  It was really busy and really fun.  Lots of parents from different classes came.  All of the children came in and bought cakes.  The Swing Band and River played, and everyone enjoyed listening to them.
There was still a lot of cake left over at the end so some of the Prep 6 mums took a group of us to offer it to the residents at Beaumaris Court.  We hope that they enjoyed it as well! – we'll ask them when we go and sing to them on Thursday morning.  Maybe there will be some left over for us?
We really enjoyed running the coffee morning and raised the AMAZING SUM of £291.80.  Thank you to the parents for donating the cakes and biscuits; to the ladies in the Edenhurst School kitchen for making the tea and coffee; to Mrs. Sandra Jones for helping the Swing Band to rehearse; to Mrs. Wardle for making the posters; to the Prep 6 mums for taking some of us and the cakes to Beaumaris Court – and to Mr. Barnes for helping us to run the coffee morning!
Click here to see some photographs from our coffee morning.
Click here to watch a video of the Swing Band performing.
Written by Chloe, Roni, Alex M, Nahyan and Ben O on behalf of Prep 6.
Categories:
Uncategorised