Posted on 4th Oct 2016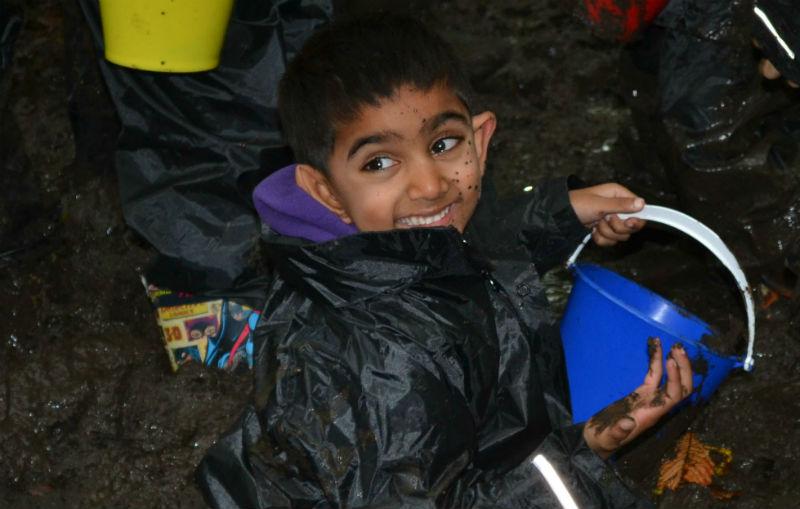 Form 2 had an amazing yet muddy day out at Buxton Country Park. We started the day exploring underground in Poole's Cavern. We found out how Stalagmites grow from the ground and Stalactites hang down from the ceiling. We also got to make a wish with a very special dragon which lives under the floor. I'm not so sure the dragon enjoyed us poking him in the eye but we do hope our wishes come true.  When we walked further into the cavern we found out that it is really cold! It stays the same temperature all year and is only about 7 degrees Celsius. We also discovered how dark it is without natural light. We were a little concerned when the lights were turned off for a few seconds but we soon discovered that Rudy's wellies glowed in the dark!
When we emerged from the cavern we instantly warmed up and began the interesting challenge of putting our new waterproofs on.
After lunch, all dressed in waterproofs and ready to go, we met Carmel, our guide from Outdoor Genius. We became woodland explorers in Grin Low Woods, taking turns to find out where to go next, collecting interesting natural materials on the way. We found all sorts of things but we were particularly interested in beech tree nuts.
We also learned how to measure trees to work out their approximate age and made houses out of the materials we collected for small woodland creatures. However, the highlight was finding a very swampy puddle. After a not so accidental slip, the rest of the class had great fun squelching through the mud. At one stage we lost a wellie to the swamp monster but Miss West soon ran to the rescue. We could have spent all day in the mud – it was brilliant fun and everyone was smiling and giggling.
We had an amazing day and loved every second of it. We found out lots of information about natural materials during both parts of our trip. Our new waterproofs were a much needed necessity and thank you to everyone for returning them so clean!
Click here to see some photos from our visit.
Mrs Heyhoe
Categories:
Uncategorised