Posted on 20th Sep 2016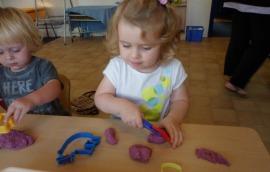 It is hard to believe that play-doh has been entertaining children for over 60 years this year! To celebrate National Play-Doh Day on Friday 16th September all the children in the Nursery decided to get out their sculpting tools and see where their creative skills could take them.
The Babies explored using their hands, squashing and poking the dough, using their sense of touch.The Toddlers added different scents including mint, cinnamon and lemon to tickle their olfactory senses. Some of them even had a sneaky taste too.The Explorers used tools to cut, roll and press into their dough. Meanwhile the Little Learners decided to make their own dough, mixing in the flour, salt and water themselves and using their hands to knead everything together before playing with their creations. The Early Learners also used their mathematical skills to count out dots of playdough to match the number on their mats.
Play-doh has many benefits making it a popular choice for all the children to play with. All the activities above encourage fine motor skills, imagination, science and discovery and maths and literacy skills. It's amazing when you discover it was originally intended as a wallpaper cleaner!
Click here to see some photos of us enjoying our play-doh!
Miss Henry, Miss Whitmore, Mrs. Damjanovic, Mrs. Copestake, Mrs. Pugh
Categories:
Uncategorised