Posted on 11th Jul 2016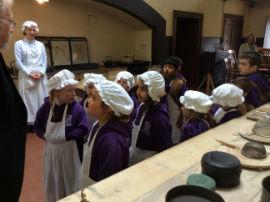 Form 1 have been studying all aspects of Victorian life in History lessons; homes, holidays, toys and childhood. To investigate further, the class travelled to Dunham Massey to spend a day living as a Victorian child. 
Despite the rain, we were all excited by the prospect of the day ahead. Our first activity was to help Mr Adams, the gamekeeper. He was very upset and cross because a poacher was taking the rabbits, pheasants and deer from the park. It was our job to establish the identity of the culprit. To do this, the children had to question all the estate workers and it all seemed to rest on who had been to Church on Sunday!
 
After interrogating various characters, the children eventually met Sam, the mole catcher. He seemed a bit shifty and our worst suspicions were confirmed when we spotted that he had a rabbit in his bag. Sam was a real smooth talker and he almost convinced the class that he was innocent, however, the evidence was clear! Sam was the poacher! Mr Adams decided to give Sam a warning and that kept everyone happy, except the rabbit of course!
 
After lunch, the children became maids and servants for the afternoon. The girls wore a bonnet and an apron whilst the boys wore a waistcoat, necktie and an apron. It was a sign of the hard work to come! During the afternoon the children had to bake a gingerbread man (good fun), clean the laundry (hard work) and empty a chamberpot (yuk)! They found out how hard the children in Victorian times had to work and were all exhausted after only a short afternoon!
 
As the day came to an end, Form 1 considered whether or not they would like to have been a child in Victorian times. Although we had thoroughly enjoyed our day, we all decided that life in the past was very hard work and we preferred our comfortable homes, modern toys and meals at McDonalds!
Categories:
Uncategorised