Posted on 16th Jun 2016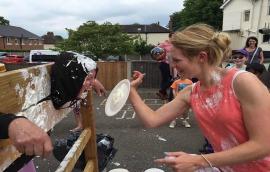 Well…what can we say? The Summer Fayre was a great success. The sun was shining and the rain stayed away.
This year we decided to go with the 'Great British Bake Off' theme, which allowed the children to go against the clock and decorate their cakes. This was a great success, and I did not realise how competitive it was going to be!!! Congratulations to all children who took part. Staying with the 'Bake Off' theme, poor Miss Machin was voted by the children (and I think some of the teachers also had some influence) to go into the stocks and have cream pies thrown at her. She showed such great sportsmanship that Mr Copestick could not resist getting into the stocks as well!
Following on from last year we continued to have games and stalls including the inflatable assault course. The children loved it and I was certainly tired from running up and down to collect the tokens! The football tournament was great and real athleticism was shown by all the children. Thank you to Mr Beasley who organised this.
As always the BBQ and tea rooms went down a treat – possibly influenced by the day being Her Majesty the Queen's official birthday – and once again I would like to thank Wayne Walkers for their kind donations. Overall it was a fantastic day and on behalf of the EFA I would like to thank everyone who contributed to making this day just brilliant. Hope to see you all again next year?
Money is still coming in, but with expenses taken off we were able to raise around £900 to go towards further playground equipment for all ages.
Click here to see some photographs from the Fayre.
Sally Sturge
Chair of the EFA
Categories:
Uncategorised