Posted on 15th Jun 2016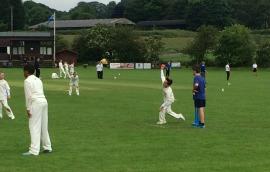 We took a team of eight cricketers to this tournament chosen from years 4 through to 6. The schools involved were grouped into two pools for the heats with the winners of each pool playing a final game to decide who would go through to the area finals at the end of June.
In the heats we played St Mary's, Ravensmead B and Westlands Primary schools. We performed extremely well in all of these games winning each by a large margin, resulting in us winning the pool and reaching the final against Ravensmead A team. In the final we won the toss and elected to bowl first. It was clear from the outset that Ravensmead A team would be a tough team to beat with two county development players showing their batting skills from the off.
At the end of our their innings they were on 249 giving us a challenging target to beat. Our team gave 100% during our innings which lead to a nail-biting finish. We finished on 247 despite some quality batting from our final pair Joseph N and Joey S (captain). During the tournament every single one of our players performed fantastically well under the excellent guidance of team captain Joey S, and in all honesty the final game was so well matched that it could have gone either way.
Well done to the boys: you all did a great job!  Click here to see some photographs from our games.
Mr. Barber
Categories:
Uncategorised