Posted on 15th Jun 2016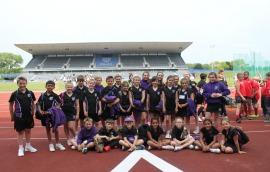 Twenty nine budding athletes from Years 3-6 travelled by coach to the impressive Alexander Stadium in Birmingham to take part in the ISA Junior Athletics Meeting; and what a venue it was! It was used as the training camp for Team USA in the 2012 Olympic Games and only a few days beforehand Mo Farah set a new British record there in the 3000m. It was a very inspiring stadium to compete in, with many of the children running on a proper 400m circular track for the first time.
It was the first time we have taken part in this and we were one of twenty nine schools taking part. We competed in cricket and rounders ball throwing, long jump and shot putt in the field events and 60m,80m,150m,600m and relays in the track events.
All children ran, jumped and threw the very best they could and did extremely well. Jiya in Prep. 3 got through to the final in the U9 girls 60m; all of the boys relay teams (U9, U10 and U11) made the finals; Summer-Louise in Prep. 6 got to the final of the girls shot putt; Joey in Prep. 6 got to the finals in the boys cricket ball throw; and Elliot in Prep. 5 not only made the finals but came a very close 2nd.
Many congratulations to all who took part and also thanks to Mr. Barnes and Miss Machin who spent the whole day time keeping and judging the long jump.
It was a great day for #EPSSport. Click here to see some photographs from our day.
Mrs. Long
Categories:
Uncategorised