Posted on 15th Jun 2016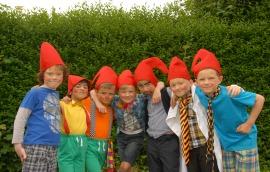 Form 2 have worked incredibly hard in the last few weeks to practise for their performance of 'Roald Dahl's Snow White and the Seven Dwarves' in addition to all of their curriculum work. They spoke clearly and sung with enthusiasm through every rehearsal and performance, conquering their nerves quickly.
As their teacher I am incredibly proud of their development in drama and music. They have enjoyed learning their lines and singing very complicated songs and I'm sure it will feel strange not to be rehearsing now the play is over. We will probably all be singing and humming the songs for many weeks to come!
If you wish to order a DVD of our performance and have not yet done so, please let Mrs. Wardle know as soon as possible as it will only be available for a limited period.
Take a look at our photo gallery to see how we all look in our amazing costumes.
Well done Form 2!
Mrs. Heyhoe
Categories:
Uncategorised