Posted on 15th Jun 2016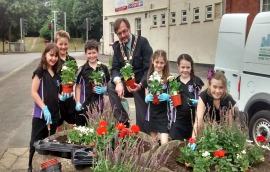 The allotment is looking amazing. It is unbelievable to think we have only been planting for 5 weeks. All of our fruits and vegetables are growing well (although the slugs seems to think that they can help themselves!). We have now planted a range of fruits, vegetables and salad crops filling every available space that we have. The greenhouse has tomatoes, mini cucumbers and peppers and thanks to the EFA we have installed a brilliant solar irrigation system. This will help to ensure that the plants are never short of water, especially in the recent heat wave.
The group who worked at the allotment last week also had the special opportunity to work alongside the Mayor of Newcastle Under Lyme. They were invited to join a community planting event and were challenged to fill the planters by Berkeley Court in the town centre, following a given design. The finished planters look amazing and very colourful.
All of the groups who have been to the allotment so far have worked enthusiastically and have learned about safe tool use and planting methods. Other allotment tenants have commented on how polite and hard working our children are and we have received lots of positive feedback from everyone.
Take a look at some of our recent photographs in the photo gallery and follow us on Twitter @EdenhurstPrep #EPSAllotment
Mrs. Heyhoe
Categories:
Uncategorised