Posted on 24th May 2016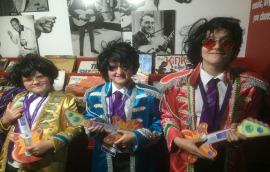 Unbelievably, the lives of the Fab Four are now part of the Prep 6 History curriculum.  For those of you who can remember them the first time around, I confess to being a little envious…each time we go to visit The Beatles Story on the Albert Dock in Liverpool, I reflect on what an amazing time the 1960s must have been and how much change took place in that decade.
Since last year's group went, further work had taken place and the overall experience was better again.  Prep 6 enjoyed walking through the interactive timeline, finding out about the history of the band and its four members and how they initially met, and how a song called 'Raunchy' was the key that unlocked George Harrison's place in the band!
We walked through reconstructions of the famous 'Cavern Club' and stood on a mock-up of the zebra crossing from the cover of 'Abbey Road'.  No-one volunteered to take off their shoes, though!  The 'screaming' section amazed the children…they were stunned to see hysterical people literally being carried away by policemen, and to discover that this was a new phenomenon.  Between Elvis Presley and the Beatles, this was something new and unheard of as the 'Teenager' emerged as a new phenomenon in terms of dress, outlook on life and an age group that was specifically targeted in terms of marketing.
The children found out that 'Strawberry Fields' was an orphanage close to where John Lennon lived, and that he used to play in the grounds as a child: he wrote 'Strawberry Fields Forever' to commemorate its closing.  'Lucy In The Sky With Diamonds' may have other explanations for its origin, but in class and at the exhibition we learned that it comes from a painting by Julian Lennon, aged 4, who proudly showed his parents a picture of his childhood friend Lucy 'in the sky with diamonds'.
After spending some time in the Discovery Zone, where we dressed up as pop stars and groupies and danced to some of the famous songs from the 1960s; and used the karaoke 'virtual piano' to compose the opening lines of famous Beatles tracks.  Great fun!  Once we'd had our lunch, it was time to go to FAB4D – nothing to do with 'Thunderbirds' but a new addition to the exhibition: This is a 4D experience: a 12 minute long film in 3D (so we had to wear special glasses), but we sat in special moving chairs and got squirted at various intervals by water and bubbles – much to the amusement and delight of Prep 6!  All of them would have happily sat through it again.
It was then time for the 'Day Trippers' to 'Get Back' down 'The Long And Winding Road' to Edenhurst, having experienced 'A Day In The Life' of the Beatles.  They certainly enjoyed their 'Magical Mystery Tour' round The Beatles Story, which is 'Getting Better' year on year…and I'll stop there before someone starts a 'Revolution'!
Click here to see some photos of our FAB day in Liverpool!
Mr. Barnes
Categories:
Uncategorised