Posted on 12th May 2016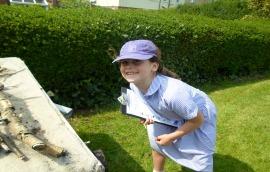 In Science, Form 2 have been learning all about minibeasts and plants we find in our local area.
We have really enjoyed going on a bug hunt on the school fields, looking in our 5 star bug hotel and under logs and stones. We have written about our favourite minibeast in English and also our own minibeast riddles. In art we have enjoyed colouring in extremely detailed pictures of minibeasts using a range of bright colours. Three weeks ago we planted pea seeds. It has been exciting to watch them grow and we are keeping a diary to show how they change each week. We have also been watching our oak trees, watermelon plants, apple trees, plum trees and pear trees grow which we planted from seeds a few months ago. Hopefully our plants will continue to grow when they are planted at our school allotment in the next few weeks.
Click here to see photographs of us enjoying ourselves with little beasties!
Mrs. Heyhoe
Categories:
Uncategorised