Posted on 11th May 2016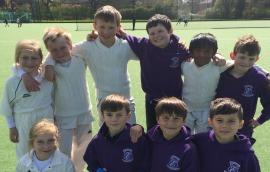 A mixed U8/U9 team travelled to The Ryleys for what turned out to be the first fixture of the cricket season, due to other games being called off. Playing Kwik Cricket rules, we won the toss and decided to bowl. Everyone has to bowl one over and all of our players did an outstanding job, but leading the way were Ella S, Arjun A and Elliot W who between them only allowed The Ryleys to score 4 runs! The Ryleys set us the total of 250 to beat (each team starts with 200).
For our first competitive match the children batted very well, with all players scoring important runs. With our last pair, Ben S and Elliot W, going into bat we were trailing The Ryleys by 5 runs. Both boys batted very well with some excellent running between the wickets and big shots. Between them they managed to score 26 runs in two overs to give us a very pleasing win and a great start to the season.
Well done!
Mr Beasley
Categories:
Uncategorised