Posted on 11th May 2016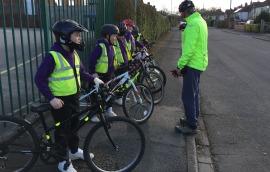 If you were out and about in the local area on Tuesday and Wednesday, you might have noticed groups of Prep. 5 and 6 pupils cycling along the roads accompanied by instructors from the 'Bikeability Scheme.' This was part of their level 2 Bikeability training which went on this week.
The pupils were taught how to safely mount and dismount, turn corners, do 'U' turns,  pass parked cars and the position they should be riding in, when on a road. They learned the importance of visual checks when riding and  also learned about the Highway Code.
It was lovely to see their enthusiasm and confidence grow and I hope that they will always use these skills in the future.
Click here to see photographs of the children enjoying themselves on their bikes.
Mrs. Long
Categories:
Uncategorised