Posted on 11th May 2016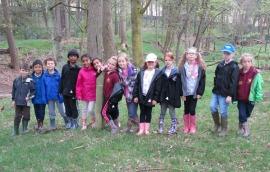 Prep 3 had a wonderful day in the beautiful surroundings of Lyme Park.  The park has a varied landscape, from manicured gardens to wild woods. It's also VERY hilly, as the children found out when we went to find the source of the Bollinhurst Brook!
We had a not-so-gentle stroll through the deer park and then a trek through Hampers Wood, but we found what we were looking for.  We followed the brook through the park, and discovered that it disappears into 2 lakes and even goes under the main car park before appearing again in Crow Wood. From this very small beginning, it will eventually find its way into the River Mersey – thankfully we didn't have to walk THAT far!
See some photographs of our visit in the gallery.
Mrs. Guest
Categories:
Uncategorised