Posted on 28th Apr 2016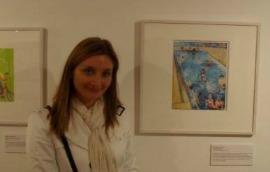 We're delighted to welcome Hannah Turner to Edenhurst this term, as our Art Teacher.  Read on to find out more about her…
I have really enjoyed my first few days teaching Art and Design at Edenhurst. I have been overwhelmed by the friendly atmosphere and the dedicated pupils. I have been impressed with their Art work so far! I am very much looking forward to accompanying the students and staff on the Barcelona trip next week and thoroughly enjoyed Prep 5's visit to the Lowry last week.  It has been busy from day one! I feel pleased to be a part of a school that values and provides such rich cultural and creative experiences.
I have been teaching for seven years as a Secondary Art and Design Teacher with responsibilities for KS4 and 5 and a responsibility to build up animation and ICT in Art in my first teaching post.  I was then appointed as a Middle Leader (Curriculum Leader for Art and Design) in a further secondary school. I worked for Derby University lecturing in Art and Design too. When I am not at Edenhurst I am working in one of my other roles, which are mainly Art and Design based. I work for three exam boards and am Principal Moderator for one of the A Level Art and Design courses, which keeps me very busy. I also work in a variety of other school settings five days a week and do my own Art and Craft bits and pieces on the side! 
I have a BA Honours Degree in Illustration (Visual Communication), a PGCE in Art and Design Secondary Teaching, and a MA in Education.  I am passionate about Art and Design and I enjoy the opportunity to think and work creatively and to see students express their learning in so many varied ways. It is so rewarding to see students achieve and realise they can do it!
I have worked in many roles before teaching including Venues and Events Management, Retail Management and as a Freelance Illustrator to name  a few! I have also worked in Brighton teaching Art and Design and English to international students at a UK summer school. I love travel and travelled for a year across five continents, this also included working in Australia. It was a truly amazing experience and one I will never forget. My sketchbook travelled with me around the world and is something I can always treasure! 
On my travels I was fortunate enough to hike the Inca Trail to Machu Picchu and visit the Uros Indians on Lake Titicaca in Peru. I also visited the Hill Tribes people in Thailand and visited the  children in their local primary school. This was just a few of the amazing experiences I had.
In my spare time I enjoy spending time with family and friends. I enjoy surfing and swimming and keeping fit. I like to read, visit galleries and museums, and paint and draw of course! 
I am very excited about what the pupils are going to be producing in Art and Design at Edenhurst and hope they will be too!
Categories:
Uncategorised