Posted on 27th Apr 2016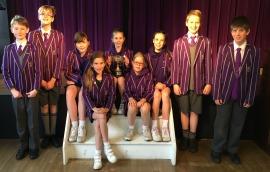 On Monday a squad of 9 swimmers from Prep. 5 and 6 took part in the Newcastle Schools' Gala and returned with a clutch of medals and a trophy.
There were individual events in front crawl, backstroke and breaststroke and team relay events in the same strokes and a medley relay, which is where each member of the team swims a different stroke.
All of the swimmers were very successful, either coming first or second in their events. I am delighted to say that we won all of the relay races in our heats.
There was a great team spirit with all of the squad cheering each other on.
At the end of the gala medals were presented to the event winners and each overall heat winner was awarded a trophy. We were heat winners and proudly accepted our trophy.
Mrs. Long
Categories:
Uncategorised