Posted on 26th Apr 2016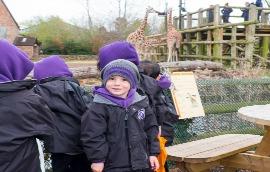 As part of our Science studies, Form One has been finding out about how animals can be classified into groups. To learn more in a practical environment, the children travelled to Chester Zoo on a bright (well, brightish!) April morning.
First stop was at the elephant enclosure. Everyone was amazed at the size of these huge creatures which were enjoying throwing sand over themselves. During the morning we saw lots of different animals; we walked through the Butterfly House where butterflies of all sizes and colours floated gently around, saw the tall and graceful giraffes with their patchwork coats and laughed at the chimpanzees which were chasing each other around. They even made more noise than we do!
Soon we were all starving and ready for lunch although there were still lots more animals to see!
After eating, we moved on towards the penguins which performed all sorts of acrobatics on top of and under the water! Next there were some lions although it was a bit worrying how the biggest one seemed to have his eye on us!
Soon we were heading to the spooky and mysterious Twilight Zone, where fruit bats fly about freely in the dimly lit building. Bats use sonar to tell where objects are so they flew within a whisker of our heads- it was really scary but amazing!
We had brilliant fun despite the weather, but on a serious note, the zoo is a leader in the area of conservation and is working to protect the future of many endangered animals for children just like us for years to come.
Click here to see us enjoying ourselves at Chester Zoo.
Mrs. Mitchell
Categories:
Uncategorised