Posted on 26th Apr 2016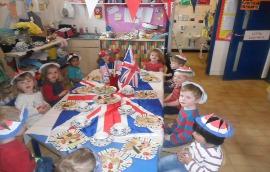 To celebrate Queen Elizabeth's 90th Birthday, the children in Nursery decided to have their own afternoon tea party. The Explorers, Little Learners and Early Learners made their own crowns to wear and all the other children and staff including the Babies and Toddlers wore red, white and blue clothes. Jaxon even brought his own Union Jack flag!
To go with their Union Jack tablecloth the Little Learners children tasted cucumber sandwiches, mini muffins and scones with jam on top.
They also even tried their very own china tea set for their drinks and managed very well without spilling a drop.
Click here to see our photographs from last Friday!
Miss Whitmore and Miss Henry (on behalf of the Nursery)
Categories:
Uncategorised