Posted on 14th Mar 2016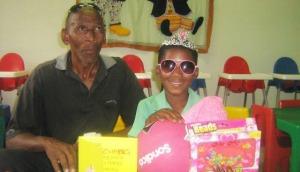 Each year the school supports 3 main charities: local; national; international.
For 2016, the national charity is Barnado's. During the week beginning March 7th, the children will be taking part in sponsored 'Care and Share' activities. There will be more to report in the next Newsletter.
The international charity is Morning Star, an orphanage for HIV/Aids children in South Africa. Our children contribute loose change into their classroom charity tin – the target is just £15 per month which helps to support one child in the orphanage.
We recently received this letter of thanks and some photos of 'our girl' Lebohang celebrating her 10th birthday.
"Dear Edenhurst School (c/o Nick Copestick Principal)
Delighted to be sharing with you all some photos of Lebohang celebrating her 10th Birthday with us at Morning Star, may we also take this opportunity of expressing our gratitude and thankfulness for your continued support, this is so appreciated, and a source of joy and encouragement to us..
Beautiful weather here at the moment, wonderful to sit at this desk in the afternoon and hear our children playing in the garden, just wish you could join me at Morning Star as we celebrate their ability to run, jump and have fun.     
At Morning Star children in our care, through no fault of their own, find themselves in situations of extreme poverty, neglect and often abuse. Often parentless, they are therefore very vulnerable little people, living in a society, where survival of the fittest rules.
Being able to partner and work with you helps us to elevate and impact their lives in some measure.
We treasure and steward every single thing you do for Morning Star, so our appreciation and gratitude we extend to you and yours and we assure you that our mission will always be to provide a measure of joy, love, and laughter, to small lives, affected  so drastically with HIV/AIDS. Love in Jesus."
Categories:
Uncategorised